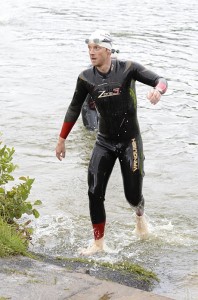 Nutri Tri is about helping triathletes improve their health, body composition and ultimately their performance through individual nutrition strategies. Strategies which fit their physiology, training and, perhaps most importantly, their lifestyle.
Are you one of the many triathletes who trains hard yet can't understand why you still have unwanted fat which won't shift no matter how much training you do?
Fat that won't shift even when you eat less and are constantly starving and low on energy?
At times you probably feel like it's just you, like everyone else at the start of a race looks better and leaner in their wetsuit.
The truth is, only a few actually look good, are healthy and can perform optimally, it's just that you notice them more than the other out of shape athletes.
I know you need help but how do I know?
I was out of shape and overweight all through my teens and early adult life. I didn't get it; I was fit but unhealthy and fat, despite training twice a day. I kidded myself it was bad genes – It wasn't!
Then I got older, had kids and now there are other challenges, but I get it.
Anyway enough about me, if you want to know more just click here.
I try to offer my readers a few options for how I can help.
Some are free, some aren't.
If you haven't already then download my free ebook and subscribe to my free weekly email.
Then there is the coaching option for those who want to get the results they want quicker – this is a paid service found here
To subsidise the free services, sponsorship opportunities are available for triathlon related companies. Companies do not have to be nutrition related, but I will only allow companies/services which are highly appropriate.